Adapting a home can have a huge impact on your wellbeing and your quality of life. A home that is more suitable for your needs can help to make everyday tasks easier.
If you are a housing association tenant and you need your current home adapted to meet your needs, contact your housing association to ask if the adaptations that you need can be installed in your home.
If you are a private rented tenant adaptations can be installed in your home with the permission of your landlord. Please contact the Council's First response team for further advice on 01443 425003.
If you own your own home and need assistance to adapt your home to make it suitable for your needs you can contact the Council's Housing Grants team on 01443 281118.
The Care and Repair Service
Another option is the Care and Repair Service provided by Cwm Taf. It aims to help older people /or with a disability to remain in their own homes, with increased comfort and security.
They offer a range of services, from a handyperson scheme offering minor repairs to a rapid response adaptations programme to prevent accidents or aid hospital discharge.
For more information about the Care and Repair Service Cwm Taf offers, please contact: 01443 755696 or visit the RCT office at: 38/39 Duffryn Street, Ferndale, Rhondda Cynon Taff, CF43 4ER.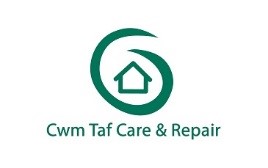 www.careandrepair.org.uk
Who is eligible to apply for adapted housing?
If your current home cannot be made suitable for you and you need to move you can apply for an adapted property via HomefinderRCT. Adapted housing is advertised through HomefinderRCT and where possible, we will work with you to help you to remain independent in the home of your choice.
We will try to do this by:
Providing support services
Fitting assistive technology into your home
Installing larger home adaptations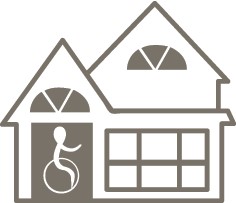 To be able to bid for an adapted home:
You will need to be registered for housing with HomefinderRCT
Your needs will be assessed to decide which level of adaptation you require within your a new home.
You will need to provide us with as much information as you can so that HomefinderRCT can assess the correct type of adaptations you need.
HomefinderRCT categorises adaptations into two levels Level 1 Fully adapted and Level 2 Accessible.
When adapted and accessible homes are advertised on the HomefinderRCT website an adapted symbol will be shown which will tell you what level of adaptations are in the property.

or

Further information about the specific facilities within each adapted home is contained in the description of the advert on the HomefinderRCT website. You can also contact the housing association advertising the property for any further information that you may need.
Level 1 Fully Adaptated Level 2 Accessible
| | |
| --- | --- |
| Ceiling hoist | Stair lift |
| Specialist bath | Level or stepped access shower |
| Wheelchair accessible shower room | Widened doorways |
| Full wheelchair access | Level or ramped access |
| Level or stepped access shower | Level or stepped access shower |
| | Specialist toilet |